From left to right Jesse Honsberger-EHS Careena Monza-YHS Anna Alcorn-EHS Oscar Lin-WAHS WCSD participants in PMEA Region Band held at Marion Center High School. Jesse Honsberger and Anna Alcorn have qualified for All State Band to be held in April in the Poconos.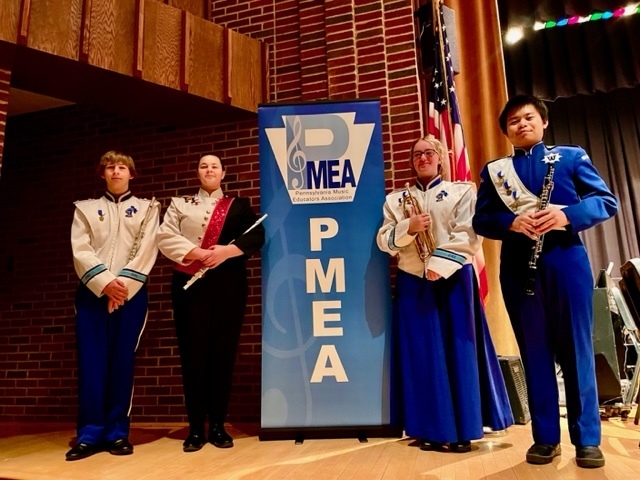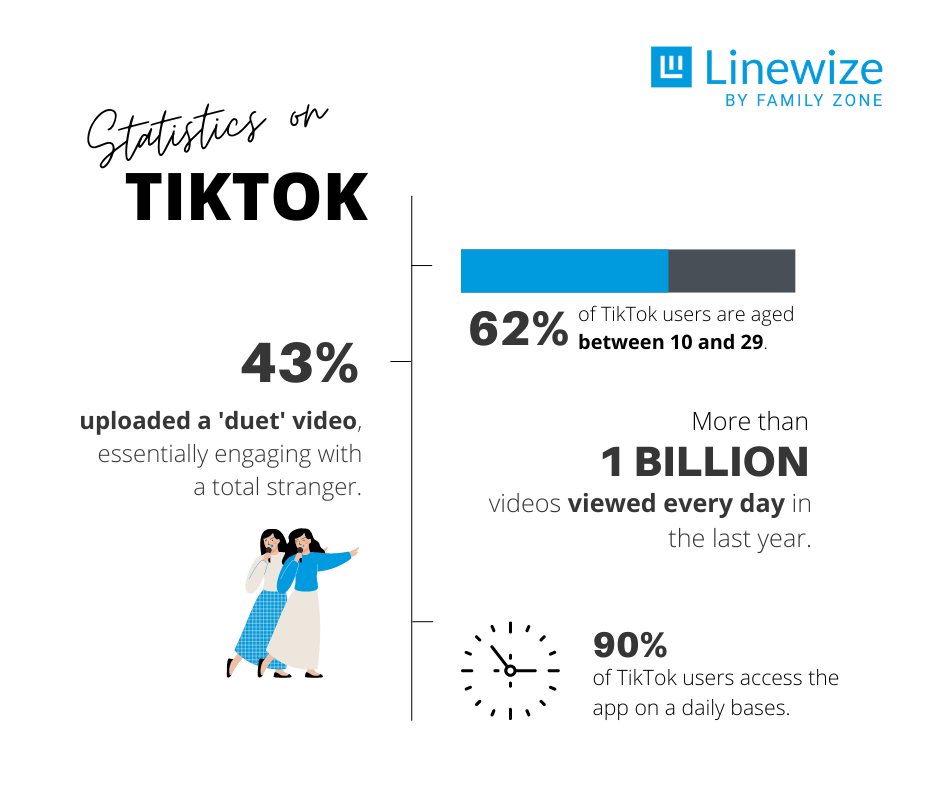 The WCSD, with the assistance of the Warren County Department of Public Safety, will conduct severe weather drills for all buildings on Wednesday, March 22, 2023. Students and staff will practice appropriate responses to weather incidents such as a tornado or thunderstorms. Please be aware that the drills may cause some disruptions for visitors to the buildings.

Anyone wishing to participate in the 9th grade class fundraiser, please see attachment. Forms are available from any 9th grade student.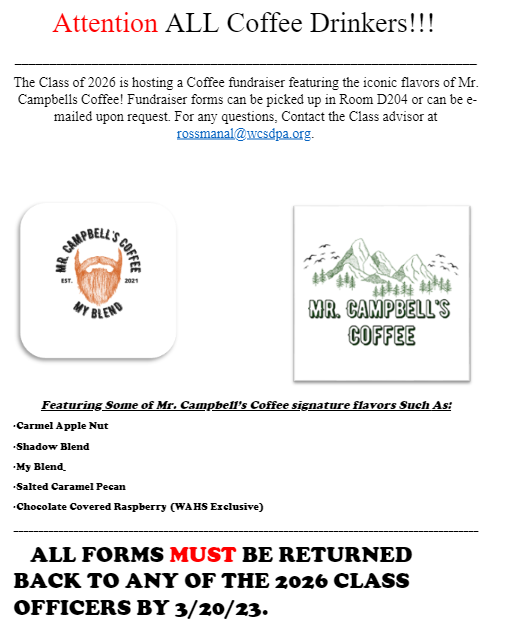 All after school activities have been canceled for today, Friday, March 10th. The All-County Junior Musical, Into the Woods Junior, will still have it's performance at 7:00 pm at Warren Area High School.
All after-school activities have been canceled for Friday, March 10th, with the exception of the All County Junior Musical. The musical's performance this evening at WAHS at 7 PM will take place as scheduled.
Master Facility Planning Process FAQ 3/7/23 Please see the latest update to the Master Facility Planning Process FAQ at
https://5il.co/1qe44

Please see the attached letter regarding state assessment participation for the 2022-2023 school year.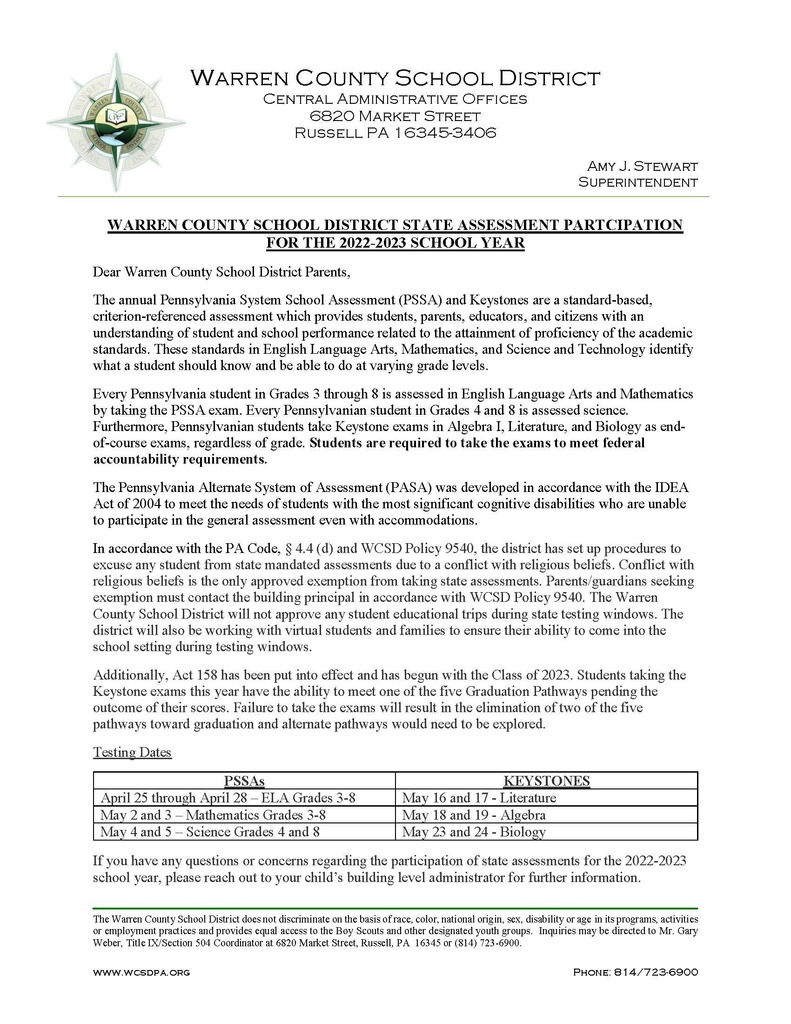 The Warren County School District is in the process of working on its Master Facility Plan. This process consists of studying population projections, assessing the status of our facilities, looking at the utilization of space, and now looking at potential options for the facilities going forward. The first version of a FAQ document is to provide factual information of many of the questions, comments and concerns.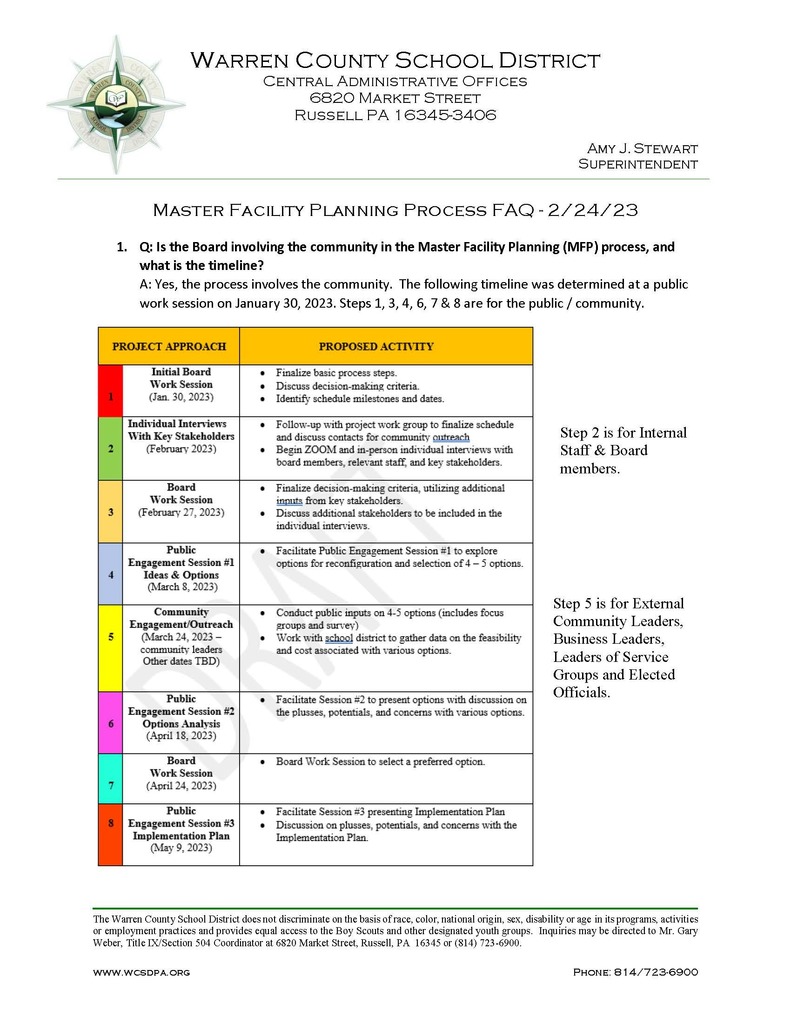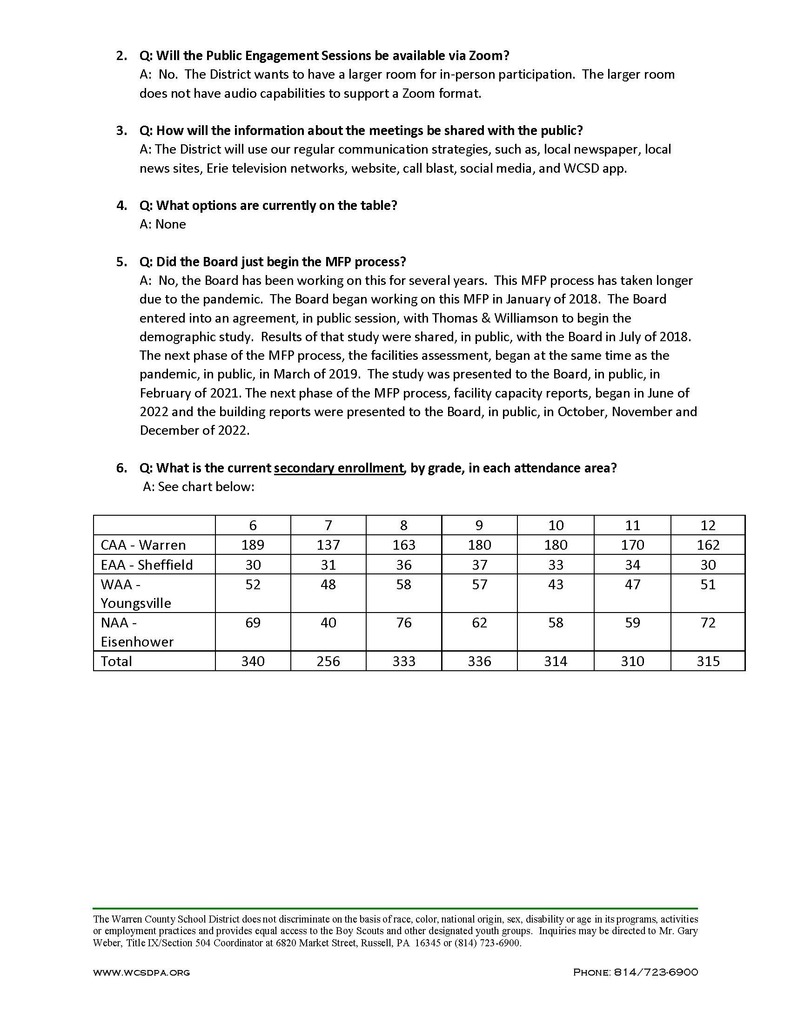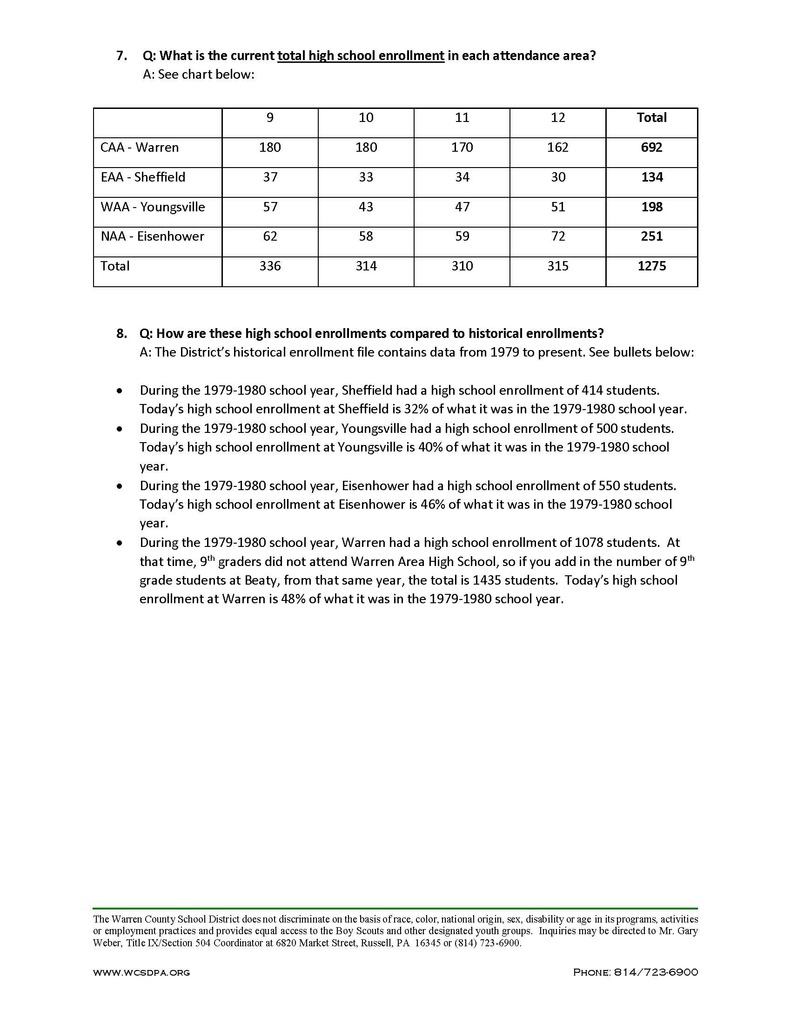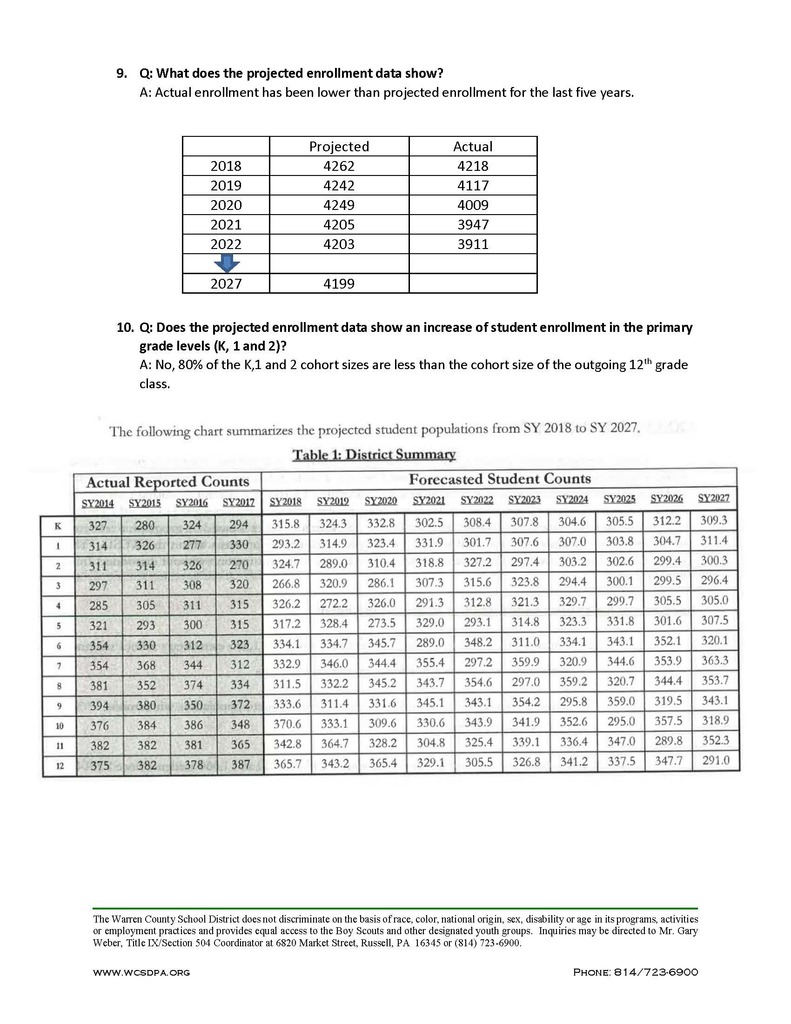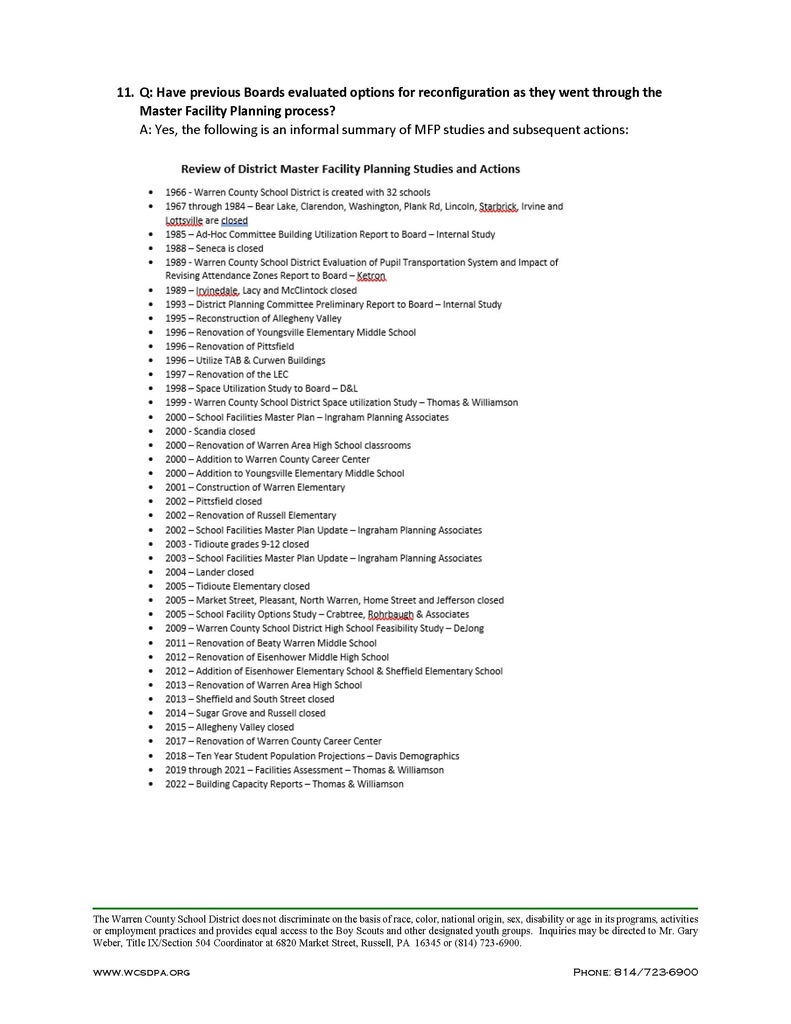 Please be advised that the Warren County School District is canceling all after-school activities on February 22, 2023, due to inclement weather. This includes 21st Century after-school programming. Members of a sports team that has a playoff match/game scheduled for this week will be allowed to attend a non-mandatory practice after school; please contact your coaches for more information.
Seniors who completed any College in the High School courses through Pitt-Bradford before this school year will need to request a transcript from Pitt to send to their college. The request can be made online through Parchment on the Pitt website. (
https://upb.pitt.edu/administrative-offices/enrollment-services
). If you are currently enrolled in a CHS course this year, please wait to request your transcript until the final grades have been posted. If you are attending any Pitt branch campus, you do not need to request your transcript.

Please see images for information regarding upcoming public meetings to discuss Master Facility Planning.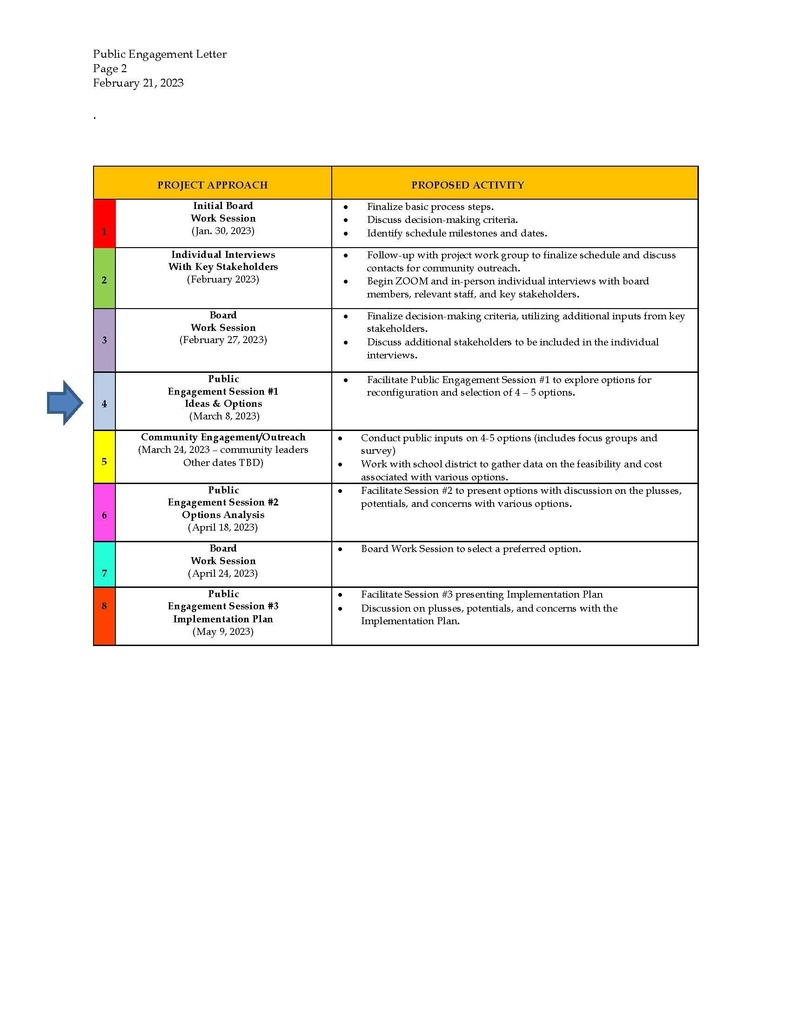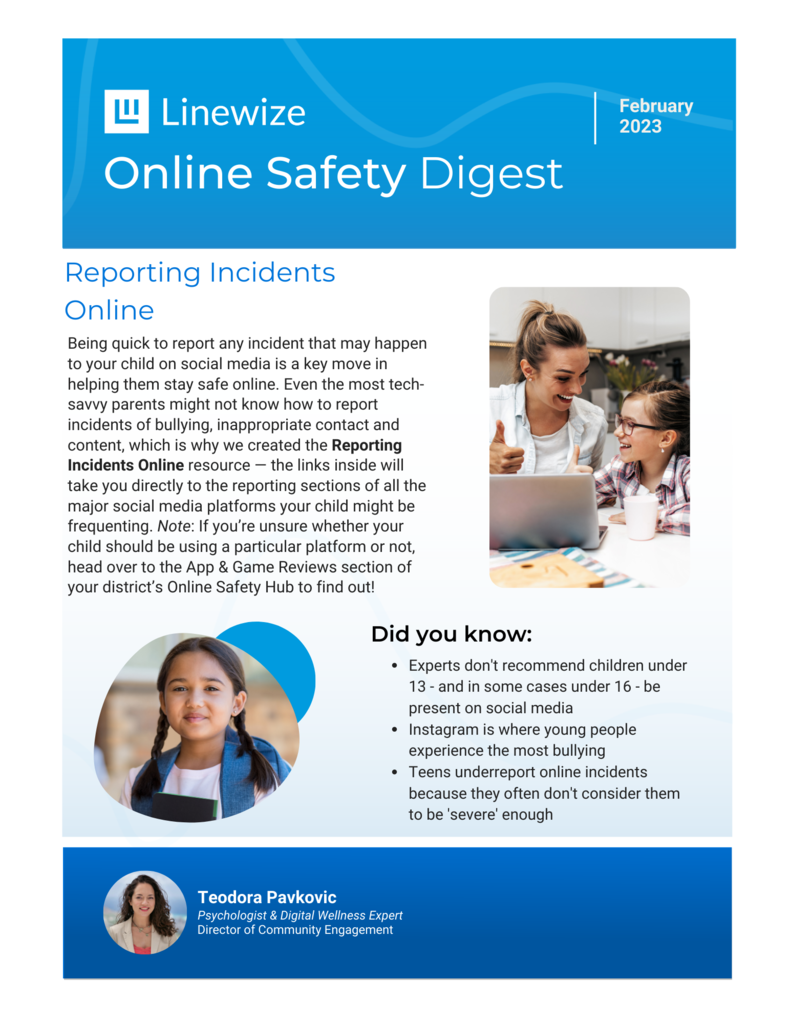 Reminder: WCSD Kindergarten Registration is ONLINE and OPEN!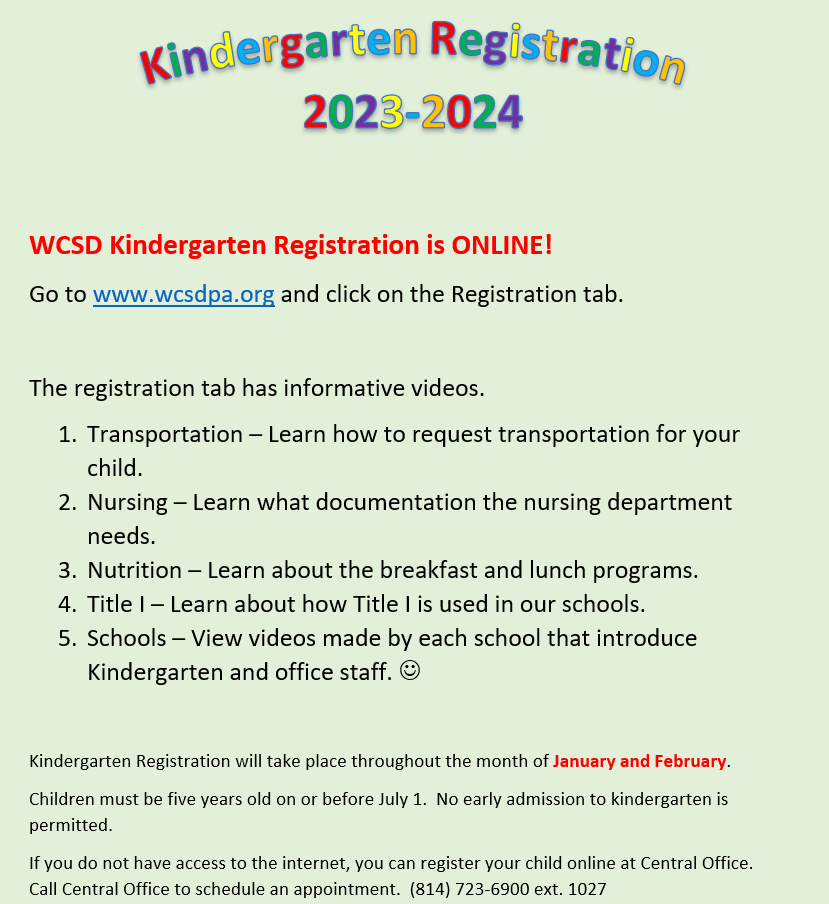 The Warren County School District was well represented this week at PMEA District 2 Band held at Seneca High School in Wattsburg, PA. From Eisenhower: Anna Alcorn, trumpet Esther Reagle, alto saxophone Jesse Honsberger, flute From Youngsville: Careena Monza, flute Jakobe Petachi, euphonium From Warren: Ruby Alburger, clarinet Camden Drayer, trombone Toby Jackson, baritone saxophone Oscar Lin, oboe Advancing on to Region Band: Anna Alcorn, Jesse Honsberger, Careena Monza, Camden Drayer, and Oscar Lin There, they will audition for a chance to play in the PA All-State Band held in April at the Kalahari Resort in the Poconos.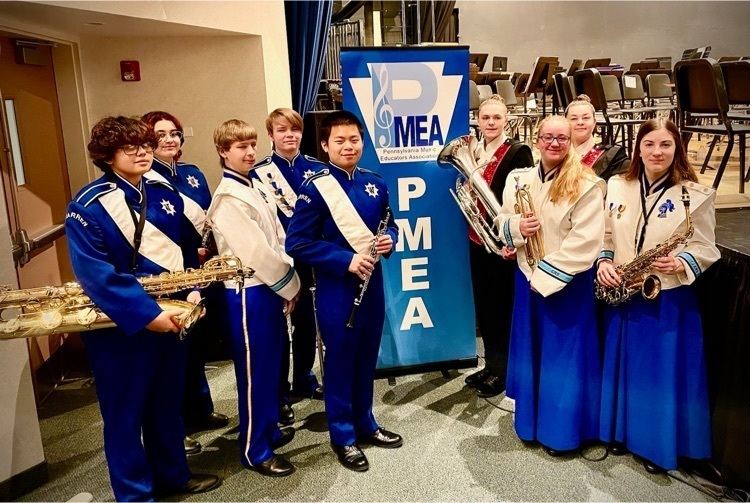 The issue with the school buildings being unable to receive incoming phone calls has been resolved.

This District is experiencing issues with receiving phone calls and we are currently working on resolving the issue. We apologize for the inconvenience.

Complete this survey to determine the need for computers used in the home by district students. COMPLETE ONE SURVEY PER SCHOOL AGED CHILD IN YOUR HOUSEHOLD. If you received a laptop for your child in the previous year, your child is ineligible to receive an additional laptop this year.
https://tinyurl.com/5n8vv2ks

Reminder: WCSD Kindergarten Registration is ONLINE and OPEN!