The WCSD has openings in its cafeterias. See the flyer for more info!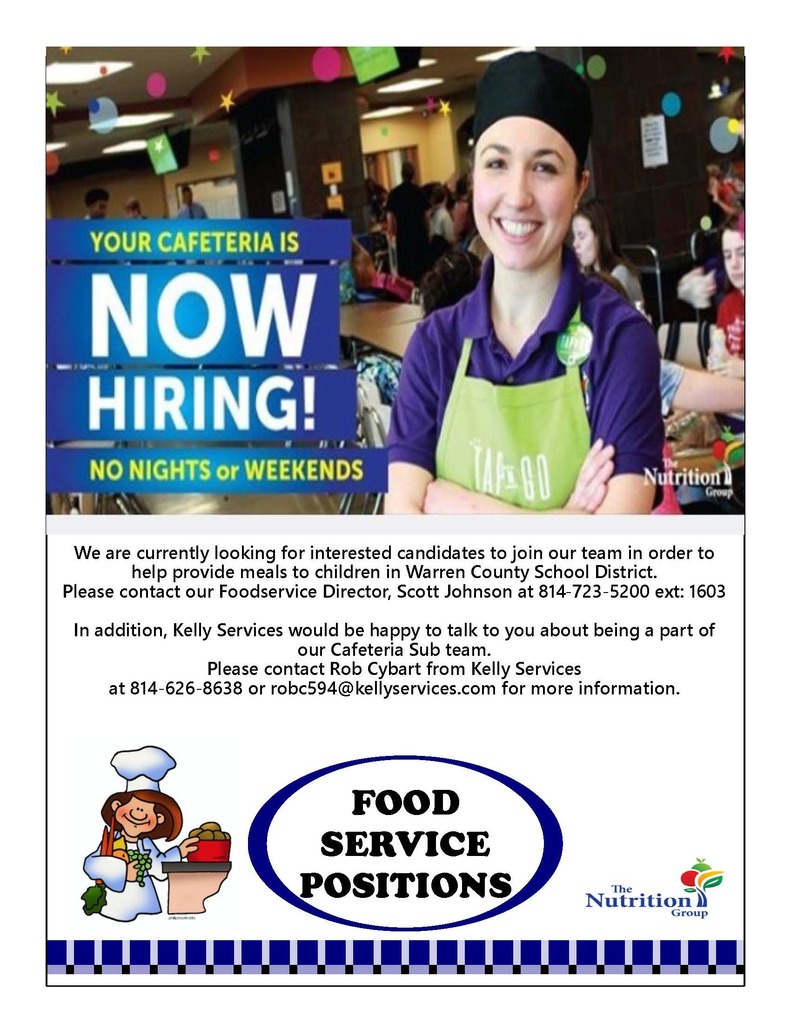 Registration Now Open for WCSD Afterschool Program for Grades 6-8 The link to apply online is
https://bit.ly/3Bk7Egn
. If you prefer, scan the QR code on the flyer. The program is currently expected to begin in October. Call (814) 723-6900, extension 1038 with any questions.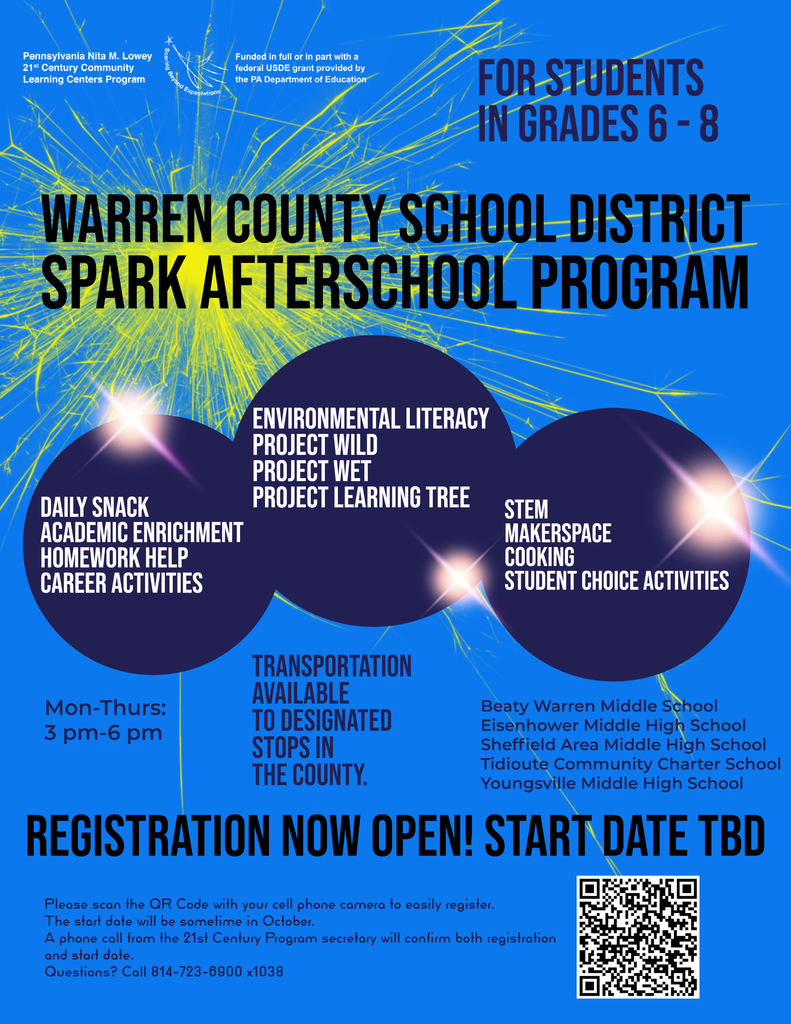 Afternoon bus routes may not be on time at their expected drop-off destinations for the first few days of school. The goal of the WCSD is to ensure all students are exiting the school safely and loading onto the correct bus. Therefore, buses will be delayed during afternoon routes until students understand and are comfortable with their routine bus dismissal procedures. Thank you for your understanding and cooperation as we begin the new school year!

Attention 10th-12th grade students: The Warren County Career Center is pleased to announce we will be offering Electronics-Electrical Engineering for this school year. If you are interested in enrolling in this program or have any questions regarding the program, please contact the Career Center at 814-726-1260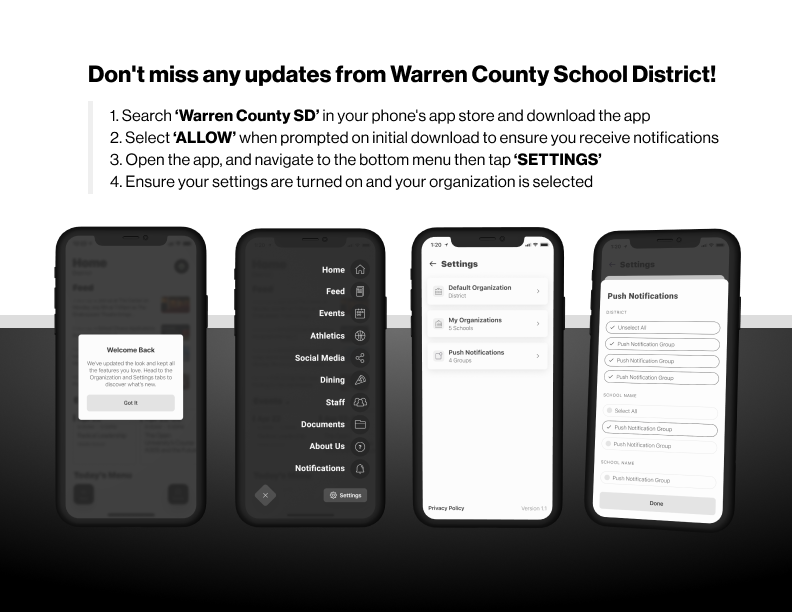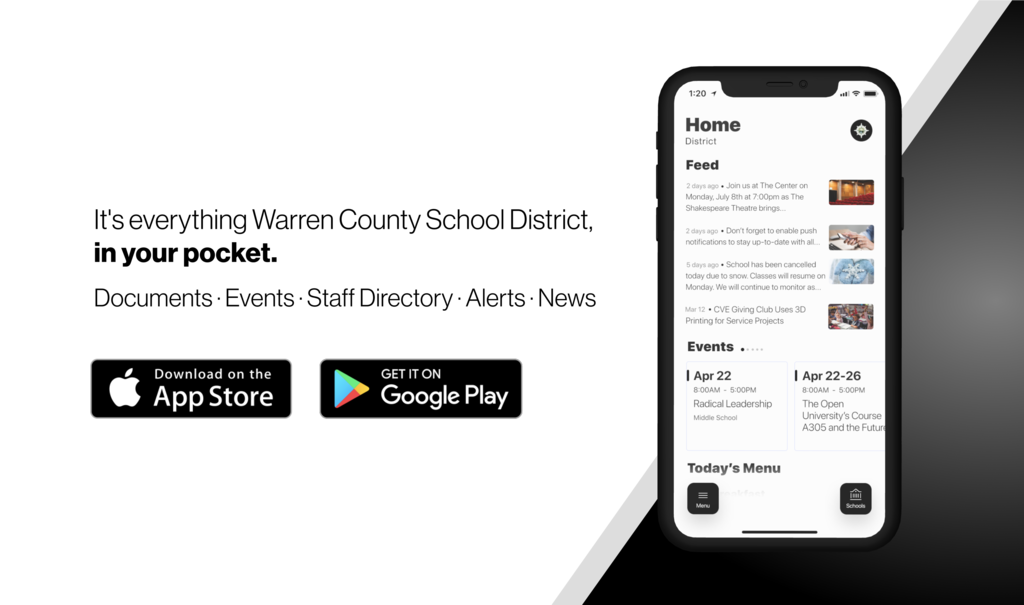 Save the dates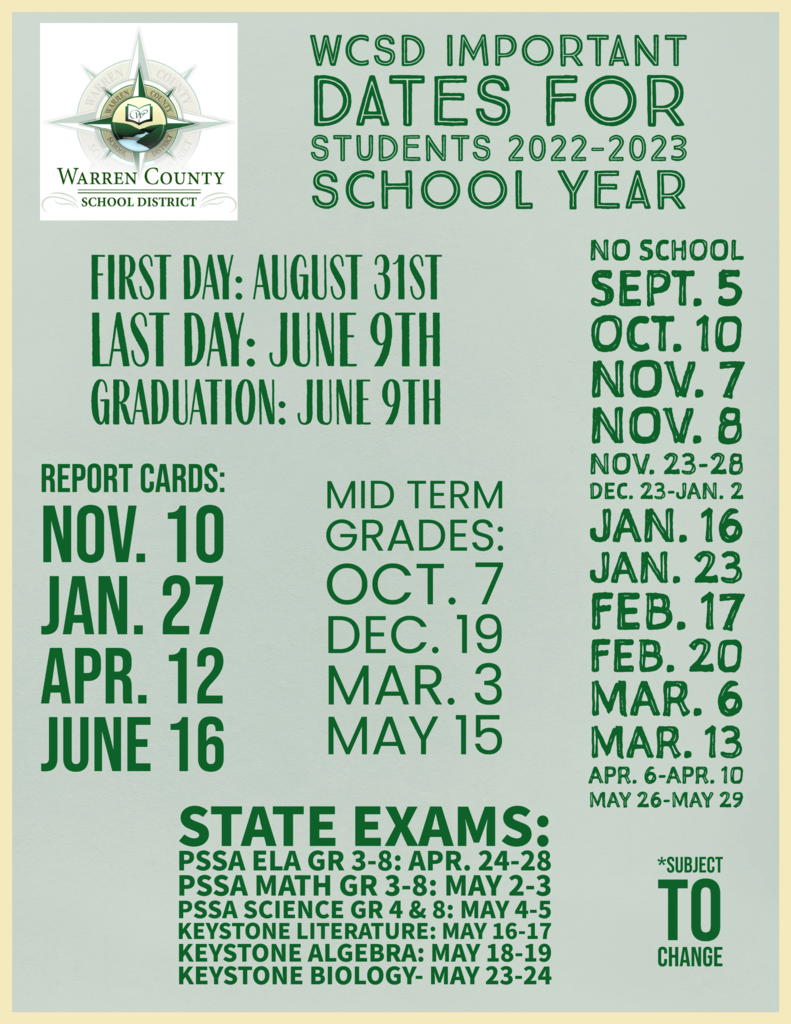 The Warren County School District will be holding an Open Interview Day for support positions in the following departments: - CAFETERIA - CUSTODIAL - MAINTENANCE - PARAPROFESSIONAL - SECRETARY This event will be held at the Warren County School District Central Office on Monday, July 25, 2022, from 8:00 a.m. through 12:00 p.m. and again from 1:00 p.m. through 3:00 p.m. A representative from Kelly Educational Staffing will also be present to interview those interested in substituting. Please bring a current resume, contact information of 3 work references, and any other supporting documentation to the interview. This is a "walk in" event…no appointment is needed.

Math Before Bed The benefits of reading stories to our children at nighttime have been shared countless times over and for good reason. Reading improves literacy skills. Why is it that we don't do math with our children before bed? Math Before Bed is a collection of prompts that can inspire mathematical discussions that you and your children can have before bed, at dinner, or anytime. Each prompt on this site shows you and your child a perplexing problem. Sometimes there is one right answer and sometimes there are many right answers. The purpose of each question is to generate a discussion about HOW you determined an answer. If you find one answer, try to find another. You could complete one prompt a night, or many prompts.
https://mathbeforebed.com/

The mission of the Warren County School District is to support the personal and intellectual success and wellness of every student, every day.